Multiple silver coins have been issued by the United States Mint over the years containing a composition of 90% silver. Aside from those within modern silver proof sets and disregarding other coinage produced specifically for collectors like silver commemorative, there are only a few of them that are still relatively common enough to be purchased in bulk.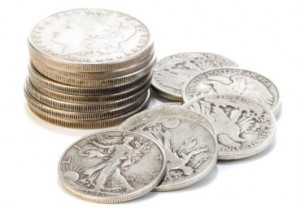 Known in the trade as "junk silver coins," these 90% silver coins are often sold in bags and rolls, but are far from being junk as the name may imply.
Junk silver coins are those which have no great numismatic value because they are not rare or because they are in such poor condition that a collector would not be interested in them.
With little to no collector value, 90% silver coins are really only worth the face amount of each, or an amount equal to the market price of the precious metal contained within them (their silver melt value). This is what truly makes junk silver coins an interesting investment option. Even if the market price of the precious metal drops to zero, the coins will at least always be worth their face value.
Typically, bags of the 90% silver coins are sold containing coins totaling $1,000 in face value (although many companies now also offer smaller increments). That $1,000 in face value equals approximately 715 ounces of pure silver allowing for wear and tear that the strikes may have received in circulation. Those same coins would have actually contained 723 ounces of silver when minted. Also, bags containing larger denominations such as half dollars and dollars would sell for slightly more than bags of dimes and nickels because the dimes and nickels would have most likely seen more use in circulation.
Many get confused as to how a bag full of $1,000 worth of face value silver dollars can have the same amount of intrinsic silver in them as a $1,000 face value bag of dimes. The answer is surprisingly simple. The United States government insured that the coinage it produced had approximately proportionate amounts of silver in each strike. So, a quarter dollar had approximately 25% of the silver that would have been contained in a silver dollar and a dime had approximately 10%.
Circulating U.S. 90% Silver Coins
As mentioned before, the 90% junk silver coin market today consists of only a few different strikes that are typically still available in sufficient low grade or non-rare quantities to make them feasible for investment. A short introduction to each is offered below:
1916-1945 Winged Liberty Head (Mercury) Dime
The Winged Liberty Head Dime, more prominently referred to as the silver Mercury Dime, was introduced in 1916 as a replacement to the Barber Dime which had premiered itself twenty-five years earlier. Each of these 90% silver coins contains approximately .07234 ounces of the precious metal.
The nickname of "Mercury" was given to the strikes because many had misinterpreted the design of the mythical figure of Liberty found on its obverse believing it to be an image of the roman messenger god Mercury. The design was completed by Adolph A. Weinman.
1946-1964 Roosevelt Dime
Replacing the Winged Liberty Head Dime, the silver Roosevelt Dime was issued to commemorate the 32nd President of the United States, Franklin D. Roosevelt, who had recently passed away.
In fact, the turnaround between his passing and the release of the new dime was less than nine months. Owing in large part to that short time-frame, these 90% silver coins marked the first time in over 40 years that a Mint employee had designed an image that would be used on a circulating coin. Typically outside artists were used. Still, the portrait of Roosevelt by John R. Sinnock has stood the test of time and still appears on the dime today.
1932-1964 Washington Quarter
The silver Washington Quarter was issued to commemorate the 200th anniversary of the birth of the first President of the United States, George Washington. As such, a portrait of Washington was designed by John Flanagan and placed on the obverse of each coin.
That image has also proved timeless as it has been used in one fashion or another on the quarter dollar ever since. Shown on the reverse of the silver quarter dollars was the image of an eagle with its wings spread. The quarters were struck from 90% silver until 1964 and contained approximately .18084 ounces of the precious metal.
1916-1947 Walking Liberty Half Dollar
Perhaps the best known work of artist Adolph A. Weinman, the obverse of silver Walking Liberty half dollar contains an image of the mythical figure of Liberty walking towards the sunrise with an olive branch in her arms.
This design is considered by many to be one of the most beautiful ever struck on a coin of the United States. The reverse shows a perched eagle with its wings spread. The Mint issued the new half dollar as part of a movement initiated by President Theodore Roosevelt to beautify American coinage. Each of these 90% silver coins contains approximately .36169 ounces of the precious metal.
1948-1963 Franklin Half Dollar
Issued from 90% silver and released to follow the Walking Liberty piece was the silver Franklin Half Dollar. These strikes also contained approximately .36169 ounces of silver as had the previous Walking Liberty design.
However, instead of a mythical figure, the obverse of these coins contained a portrait of Benjamin Franklin. Noted author, scientist, inventor, statesman and diplomat (just to name a few of his professions), Franklin is regarded by many to be one of America's most important founding fathers. As such, his image was chosen for this coin along with an image of the Liberty Bell on the reverse.
1964 Kennedy Half Dollar
While Kennedy 50c pieces have been issued for well over forty years, 90% silver Kennedy Half Dollars were only minted in 1964. Subsequent years were minted from 40% of the white metal, until a clad composition was substituted in 1971.
The half dollars feature an obverse portrait of former President John F. Kennedy who had been assassinated in 1963. In fact, the debut of these strikes occurred within three months of his death, owing in large part to the fact that artists (and U.S. Mint employees) Gilroy Roberts and Frank Gasparro made their initial designs for the silver coin within days of the assassination.
1878-1921 Morgan Dollar
When first issued in 1878, the silver Morgan Dollar marked the first time a dollar had been struck by the Mint for domestic commercial purposes in five years. A coin known as the Trade Dollar was minted during that time-frame, but was only intended for use in transactions in the Orient.
Shown on the obverse is an image of Lady Liberty as designed by George T. Morgan. The reverse, also by Morgan, shows an eagle holding arrows and an olive branch. Each of these 90% silver coins contains approximately .77344 ounces of the precious metal.
1921-1935 Peace Dollar
Issued to not only replace the Morgan Dollar but also as a means to commemorate the end of World War I were silver Peace Dollars. The 90% silver coin derives its name from the fact that the reverse contains the inscription PEACE below a perched eagle.
The obverse shows Lady Liberty. Both were designed by Anthony de Francisci who is said to have used his wife as the model for the image of Liberty. Production of the Peace Dollars ceased in 1928 because the Mint had fulfilled its legal obligations to produce them and because a stockpile of the coins had been built up. Production resumed for a short time in 1934 and 1935.