The silver Peace Dollar was produced by the United States Mint from 1921-1928, and again in 1934 and 1935.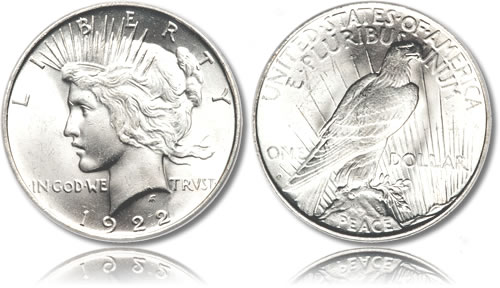 The silver coins followed the Morgan Dollars which had made a short re-appearance in 1921 before the Peace Dollar design replaced it. These coins marked the last circulating dollars in the United States to contain silver.
Peace Dollar Silver Melt Values
Despite having a relatively low mintage of less than 200 million strikes, the numismatic values of the coins are surprisingly reasonable for most mid-grades. The fact that each coin contains .77344 ounces of pure silver does affect their values in the lower grades.
For example, if silver were only $10 an ounce, the melt value of silver Peace Dollar would still be $7.73. Double the price of silver and their melt values rise to $15.46 — an amount almost equal to where low grades of the coins have been selling for in recent years. Thus, as the price of silver increases, interest in the silver pieces can improve since many take into account their intrinsic silver values.
While current values for the Peace Dollars can be obtained from several sources like price guides, coin dealers and auction sites, eBay is perhaps one of the best resources. At any given time, literally thousands of listings are available. Some examples are shown below:
Silver Peace Dollar Information
Struck from 90% silver, the Peace Dollars were first issued in 1921 and struck annually until 1928 when the U.S. Mint had met the requirements of the Pittman Act, and a stockpile of the strikes dictated an end to their production. The coins made a brief return in 1934 and 1935 before production was once again halted.
Then, in 1965, a short power struggle between the President of the United States and Congress resulted in a Presidential order requiring the Mint to produce the silver dollars once again, but the order was "countermanded" by Congress. As such, all of these strikes were destined to be melted, with no official examples remaining.
The design of the silver Peace Dollar was completed by Anthony de Francisci. It features a portrait of Lady Liberty on the obverse with a perched eagle on the reverse. The silver dollar takes its name from the fact that they were originally considered as a commemorative, marking the end of World War I. Consequently, each coin has the word PEACE inscribed below the eagle.
1921-1935 Silver Peace Dollar Specifications
| | |
| --- | --- |
| Face Value: | $1 |
| Composition: | 90% silver, 10% copper |
| Total Estimated Mintage: | 190,577,279 |
| Diameter: | 38.1 mm |
| Weight | 26.73 grams |
| Edge: | Reeded |
| Minting Facility: | Philadelphia (no mintmark), Denver (D) & San Francisco (S) |
| Obverse Design: | Portrait of Lady Liberty |
| Obverse Designer: | Anthony de Francisci |
| Reverse Design: | image of a perched eagle |
| Reverse Designer: | Anthony de Francisci |