Almost 3.8 billion Silver Washington Quarters were produced by the United States Mint during their thirty-plus year run between 1932 – 1964. With so many produced, one would think that their numismatic values would be low. And unfortunately, for most grades this is true.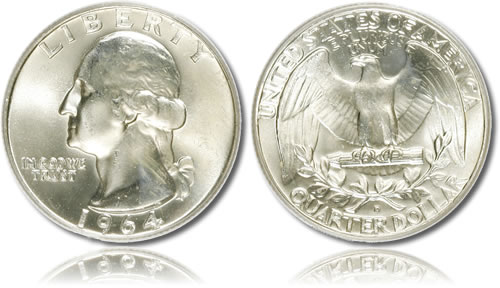 However, the series does have several key dates which can fetch hundreds to thousands of dollars for even mid-grade levels. Also, a few error coins appeared during the run which have enhanced values of their own.
Even if one of the coins does not have much or any numismatic worth to a collector owing to its wear or lack of rarity, it does not prevent their real value from exceeding the amount stamped on their face. That is because each of the 1932-1964 Washington Quarters were struck with .18084 ounces of pure silver.
Washington Quarter Silver Melt Values
Every silver Washington Quarter has a melt value tied directly to the current spot price of silver. As the precious metal market climbs, so does their melt or intrinsic value. For example, silver averaged $14.67 an ounce in 2009, making each quarter worth at least $2.65 just for the silver contained within them.
To verify the value of your silver quarters, consider using sources like your local coin dealer or an auction site. Online auction sites like eBay can be a valuable indicator of the current market conditions for specific silver quarters, since thousands of listings are typically available at any time. Some of these auctions are shown below:
Silver Washington Quarters Information
The U.S. Mint started issuing silver Washington Quarters in 1932 to celebrate the 200th anniversary of the birth of the first President of the United States. It replaced the Standing Liberty Quarter which had run from 1916-1930.
In preparation for the strike, a competition was held asking for new designs featuring Washington. Sculptor John Flanagan submitted his design, and it was selected for production. In fact, Flanagan's portrait of Washington has been featured on the obverse of the quarter dollar ever since. Only slight modifications have been made to it over the years, with the most significant changes occurring in 1999 with the debut of the State Quarters Program, and then again in 2010 with the introduction of the America the Beautiful Quarters™.
The obverse of these coins shows Flanagan's portrait of the first President of the United States while the reverse contains an image of an eagle with its wings spread.
1932-1964 Silver Washington Quarter Specifications
| | |
| --- | --- |
| Face Value: | $.25 |
| Composition: | 90% silver, 10% copper |
| Total Mintage: | 3,776,126,600 |
| Diameter: | 24.26 mm |
| Weight | 6.25 grams |
| Edge: | Reeded |
| Minting Facility: | Philadelphia (no mintmark), Denver (D) & San Francisco (S) |
| Obverse Design: | portrait of George Washington |
| Obverse Designer: | John Flanagan |
| Reverse Design: | image of an eagle |
| Reverse Designer: | John Flanagan |