The Silver Roosevelt Dime reached mintages approaching 6.6 billion during its nineteen year run between 1946 – 1964. With that large number in mind, it is not hard to understand how the market can be flooded with the dimes despite their release over half a century ago.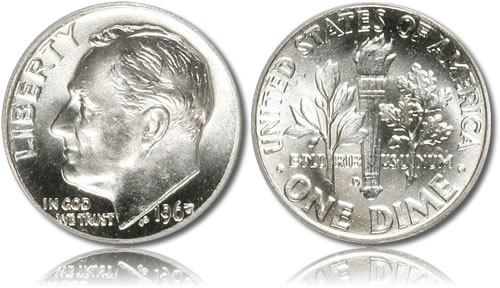 High mintages have a direct effect of depressing numismatic values for all but the best quality coins. Even the finest graded Silver Roosevelt Dimes rarely attain sale prices above the $50 mark (not including some specific error examples). Still, many consider this market to be in its infant stages and expect demand for the strikes to increase and their numismatic values to rise.
Roosevelt Dime Silver Melt Values
That does not mean Silver Roosevelt Dimes are without any true worth. Obviously, each has a face value of $.10, but examples in very fine condition routinely fetch at least a few dollars on the market. Also, each 1946-1964 dime contains 0.07234 ounces of pure silver, giving it an inherent intrinsic or melt value. So even if the coin is not worth more than $.10 to a collector due to its poor condition, it will be worth much more based on the precious metal contained within it, especially when silver prices are high.
As an example, when the silver dimes were last issued in 1964, the average price of an ounce of silver was $1.29. This gave each dime an intrinsic value of $.09 — less than their face value. More recently, however, silver had been performing well with the 2009 average coming in at a much higher $14.67, giving each dime a melt value of $1.06.
For those looking for how much Silver Roosevelt Dimes are going for today, two great options are a local coin dealer or auction sites. In fact, the online auction site eBay has literally thousands of auctions for them occurring at any time, some of which are shown below:
Silver Roosevelt Dime Information
Silver Roosevelt Dimes came on the heels of the popular Winged Liberty Dimes, also known as Mercury Dimes. Shown with a portrait of former President of the United States Franklin Delano Roosevelt, the silver coins were authorized by Congress and eventually released by the U.S. Mint within nine months after his death.
Owing to that short turn-around time, the Roosevelt Dime marked the first time a Mint employee was called upon to create the designs for a regular U.S. issue coin in over forty years. Typically, outside artists had been used for this process.
Chief Engraver John R. Sinnock is credited with both the obverse and reverse designs. As stated before, a portrait of Roosevelt is shown on the obverse while the reverse showcases a torch, olive branch, and oak branch symbolizing liberty, peace and victory, respectively.
These designs are still used on the circulating dime today, although they have not been produced from a silver since 1964.
1946-1964 Silver Roosevelt Dime Specifications
| | |
| --- | --- |
| Face Value: | $.10 |
| Composition: | 90% silver, 10% copper |
| Total Mintage: | 6,595,617,673 |
| Diameter: | 17.9 mm |
| Weight | 2.50 grams |
| Edge: | Reeded |
| Minting Facility: | Philadelphia (no mintmark), Denver (D) & San Francisco (S) |
| Obverse Design: | portrait of Franklin Delano Roosevelt |
| Obverse Designer: | John R. Sinnock |
| Reverse Design: | image of a torch, olive branch and oak branch |
| Reverse Designer: | John R. Sinnock |