Considered by many to contain one of the most beautiful designs ever produced on a United States coin is the silver Walking Liberty Half Dollar which circulated in American change between 1916 – 1947.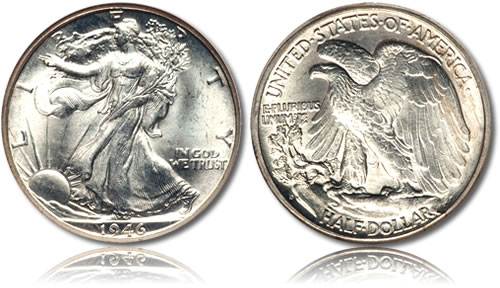 The coin was struck for over three decades with mintages at varying levels throughout the years. Accordingly, the numismatic values of the strikes can fluctuate significantly based on rarities as well as conditions. Even at low grades, typical Walking Liberty Half Dollars sell for several times over their face value.
Walking Liberty Half Dollar Silver Melt Values
Even if the coins did not attain a better than average numismatic value, it is important to remember that each also contains .36169 ounces of silver, giving them an inherent intrinsic or melt value. For example, if the price of silver was $10 an ounce, each coin (as struck by the Mint) would contain $3.62 worth of silver. As the price of the precious metal increases, so does its silver melt value.
Values on silver Walking Liberty Half Dollars can be attained with a little research. Excellent sources of this information include coin dealers, coin shows and coin auction sites. Even the online auction site eBay routinely contains thousands of listings for the coins, some of which are shown below:
Silver Walking Liberty Half Dollar Information
The Walking Liberty Half Dollar was issued following the Liberty Head coin of the same denomination. Also known as the Barber Half Dollar, the Liberty Head strike was released from 1892-1915 but never seemed to attain a following like the Walking Liberty coin.
A large factor in that disparity may be the fact that many consider the Walking Liberty design to be one of the most beautiful ever struck on a circulating coin. It was the work of American sculptor Adolph A. Weinman, and shows the mythical figure of Liberty walking towards the rising sun with an olive branch in her arms. This design is so admired that the United States Mint re-used it for the American Silver Eagles which debuted in 1986 and have been produced annually ever since.
The reverse shows an eagle poised in a defensive posture on a rock. It was also the work of Weinman.
1916-1947 Silver Walking Liberty Half Dollar Specifications
| | |
| --- | --- |
| Face Value: | $.50 |
| Composition: | 90% silver, 10% copper |
| Total Mintage: | 485,320,640 |
| Diameter: | 30.60 mm |
| Weight | 12.5 grams |
| Edge: | Reeded |
| Minting Facility: | Philadelphia (no mintmark), Denver (D) & San Francisco (S) |
| Obverse Design: | image of walking Liberty |
| Obverse Designer: | Adolph A. Weinman |
| Reverse Design: | image of an eagle |
| Reverse Designer: | Adolph A. Weinman |