The 2010 Yosemite National Park Silver Bullion Coin was the third release of 2010 issued as part of the United States Mint's America the Beautiful Silver Bullion Coin™ Program. Shown on the reverse of the strike is a design emblematic of Yosemite National Park of California.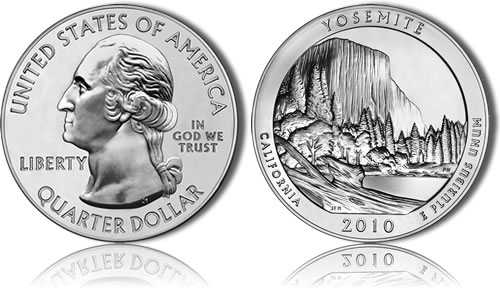 Each Yosemite bullion piece is composed of five ounces of .999 fine silver with a diameter of three inches. This massive size makes the silver coins the largest bullion products ever released by the U.S. Mint.
2010 Yosemite Silver Coin Values
As with all non-numismatic bullion products issued by the Mint, the coins of this series are not be sold directly to the public. Instead the Mint uses a network of authorized purchasers who buys coins — American Silver Eagles, American Gold Eagles, etc. — in bulk and then resells them for a small premium above the current spot price of the precious metal contained within them.
Consequently, strikes like the bullion Yosemite coin were sold by the network of authorized purchasers for a small premium above the spot price of five ounces of silver found within each one. Thus, if silver is trading at $20 an ounce, coins of this series would be sold by the network for approximately $100 plus the aforementioned premium – five ounces times $20 an ounce equals $100.
However, as each of these coins will always contain the five ounces of silver, they will also always have a melt value approximately equal to the current spot price of silver for those five ounces.
Many collectors will pay more to make sure they have each release in their collection, and many will have them graded. The silver coins that have been slabbed and graded high by an independent third party grading service will fetch the biggest premiums — typically, much more than their melt values.
Yosemite Silver Bullion Coin Information
The US Mint only struck 33,000 of the Yosemite Coins and initially made them available for ordering to the network of authorized purchasers (APs) on December 10, 2010. A Mint sell-out was declared later that month as the APs ordered the entire inventory. To monitor the number of coins sold for current releases as well as an up-to-date melt value estimator for the strikes, see silver coins sales figures.
All of the America the Beautiful Coins, including these silver bullion pieces as well as the circulating quarter dollars, feature a portrait of George Washington on their obverse (heads side). The portrait was first used on the circulating quarter dollar of 1932 to celebrate the 200th anniversary of the birth of the first President of the United States, but has been featured on the quarter dollar continually since then. It was designed by artist and sculptor John Flanagan.
Designed by Joseph Menna and sculpted by Phebe Hemphill, the reverse of the Yosemite coins showcase an image of the massive granite monolith El Capitan, located within the park's boundaries.
Yosemite Silver Coin Specifications
| | |
| --- | --- |
| Face Value: | $.25 |
| Composition: | 999 fine silver |
| Mintage Cap: | 33,000 |
| Diameter: | 3 inches |
| Weight: | 5 Ounces |
| Edge: | incused lettering |
| Minting Facility: | Philadelphia (no mintmark present) |
| Obverse Design: | portrait of George Washington |
| Obverse Designer: | John Flanagan |
| Reverse Design: | image of El Capitan |
| Reverse Designer: | Joseph Menna / Phebe Hemphill |