The one-ounce, .999 fine Silver American Eagle coin was first introduced in 1986 as part of the Liberty Coin Act of 1985. The Act required the United States Mint to produce bullion silver coins using reserves of the precious metal held in the Defense National Stockpile.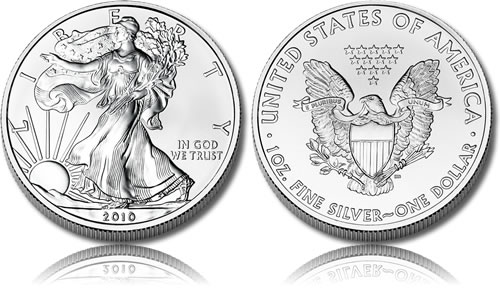 The coins were to be sold to investors as a low-cost option of adding silver to their portfolios. By requiring the silver reserves to be used for coinage instead of thrown into the open market during a 3-year schedule as had started, mining companies and markets were spared the potential impact of a glut of silver released in such a short time.
Silver American Eagle Values
As each American Silver Eagle contains one troy ounce of .99.9% pure silver, they have a melt value equal to that of an ounce of silver on the market.
Accordingly, if silver is trading for $10 an ounce, the melt value of an bullion eagle would be $10. If silver were to increase to $30 an ounce, the intrinsic value of that coin would jump to $30.
In addition to the bullion coins, the Mint also annually produces numismatic (collector) versions, with the exception of 2009 when they were cancelled as demand for bullion was at unprecedented levels and the supply of silver coin blanks was limited. The collector silver coins feature the West Point "W" mintmark and special proof or uncirculated finishes that are not found on the bullion coins. As numismatic pieces, they are sold for significant premiums as compared to their bullion counterpart. Coins that are graded by third parties will sell at even higher price points in the upper grades.
Silver American Eagle Information
Bullion Silver American Eagles are not sold by the U.S. Mint directly to the public, but instead are offered through its network of Authorized Purchasers. The network buys the coins in bulk from the Mint, then resells them in lesser quantities for a small amount above the current spot price of silver. The Mint sells collector proof and uncirculated eagles straight to the public. It stops selling prior year coins once a new year issue is released. (See current year silver coins sales figures.)
Silver American Eagles feature an obverse design that was first placed on the Walking Liberty Half Dollar which was produced from 1916-1947. Long considered one of the most beautiful designs to ever grace a coin of the United States, the image of Liberty was designed by Adolph A. Weinman.
The reverse showcases a heraldic eagle with shield with thirteen five-pointed stars shown above its head. It was designed by John Mercanti.
Bullion Eagles have been produced every year since their introduction in 1986. Proof Silver American Eagles were also minted annually but were cancelled in 2009 owing to intense demand for the bullion strikes, as mentioned previously. The Proofs did make a return in November 2010, however. Uncirculated Silver American Eagles were introduced on the 20th Anniversary of the Eagle Program in 2006. They ran for three years before also being cancelled in 2009 and in 2010.
1986-Present Silver American Eagle Specifications
| | |
| --- | --- |
| Face Value: | $1 |
| Composition: | .999 fine silver |
| Total Estimated Mintage: | over 230 million |
| Diameter: | 40.6 mm |
| Weight | 31.101 grams |
| Edge: | Reeded |
| Minting Facility: | Philadelphia, San Francisco, West Point |
| Obverse Design: | Image of Walking Liberty |
| Obverse Designer: | Adolph A. Weinman |
| Reverse Design: | image of heraldic Eagle. |
| Reverse Designer: | John Mercanti |