The 2010 American Silver Eagle Bullion coin continue a series of bullion silver coins from the United States Mint that dates back to 1986. In fact, the series have appeared annually since then, making 2010 the twenty-fifth year in which they have been issued.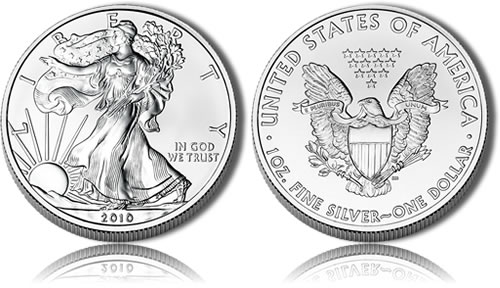 Authorized by the Liberty Coin Act of 1985 (Public Law 99-61), the coins are required to be produced by the US Mint to meet public demand. Each coin is considered investment grade and is struck from one ounce of .999 fine silver.
2010 Silver Eagle Bullion Coin Values
A network of authorized purchasers is used to sell all of the bullion products from the U.S. Mint, and the 2010 Silver Eagle coin is no exception. The network purchases the bullion pieces in bulk from the Mint, then resells them to the public for a small premium above current market values of one ounce of silver contained within each one.
Each coin will always have intrinsic melt values equal to the one ounce of silver it contains. For example, if silver is currently trading on the market for $20 an ounce, each 2010 Silver Eagle coin would have a melt value of $20 — one ounce times $20 an ounce equals $20. Buyers will pay a premium above this price, while sellers will receive a bit under it.
In addition, while bullion Silver Eagles were intended for investment purposes, coin collectors are naturally interested in them as well, albeit to a lesser degree than proof or uncirculated versions which not only include the special finishes but the "W" mintmark.
Collectors will pay the same prices as investors who purchase 2010 Silver Eagle bullion coins or rolls of them "off the shelf." However, for those that have been graded (or could be) by third parties and come in at the upper 69-70 levels, premiums can be substantially higher as coin values for them in the market peak higher than non graded specimens. Also, demand and availability play a role in values as well. An example of this is the 2009 Silver Eagle bullion coin. The Mint did not produce any collector proof or uncirculated versions that year leaving only these numismatic pieces to obtain.
2010 Silver Eagle Bullion Coin Information
As mentioned, the Silver Eagle bullion coin has been produced annually since 1986. Literally millions of the coins are issued by the Mint each year. However, interest in the strikes does vary based on the current silver market conditions.
Since these coins are produced as investment devices, it enables the public a chance to obtain small amounts of silver to add to their portfolios. (Each is composed of one ounce of .999 fine silver, making it easy to determine their current value.)
Demand for bullion 2010 Silver Eagles remained high following a ramp-up of purchases that began back in 2008. In fact, interest in the silver coins was so intense that the Mint could not keep up with production and had to institute a rationing program that lasted much of the year. In the end, enough Silver Eagles would be purchased in 2010 to make it the best year ever for the strikes up to that point.
Shown on the obverse of each coin is Adolph A. Weinman's "Walking Liberty" design. The image was first used on the Walking Liberty Half Dollar that appeared from 1916-1947, and is considered one of the most beautiful designs to appear on American Coinage. Also shown are the inscriptions of LIBERTY, IN GOD WE TRUST and the year of 2010.
The reverse contains John Mercanti's Heraldic Eagle with Shield. The inscription of E PLURIBUS UNUM is contained within the design while UNITED STATES OF AMERICA, 1 OZ. FINE SILVER and ONE DOLLAR surround it.
Up-to-date sales information on the strikes can be found on the silver coins sales figures page. Melt values based on the current market for silver is also shown.
2010 Silver Eagle Coin Specifications
| | |
| --- | --- |
| Face Value: | $1 |
| Composition: | .999 fine silver |
| Total Estimated Mintage: | 34,764,500 |
| Diameter: | 40.6 mm |
| Weight | 31.101 grams |
| Edge: | Reeded |
| Mintmark: | None |
| Obverse Design: | Walking Liberty |
| Obverse Designer: | Adolph A. Weinman |
| Reverse Design: | Heraldic Eagle |
| Reverse Designer: | John Mercanti |