The last of the 2010 releases of the United States Mint's America the Beautiful Silver Bullion Coin™ Program was the 2010 Mount Hood Silver Bullion Coin. Shown on the reverse of this silver bullion coin is a design emblematic of Mount Hood National Forest of Oregon.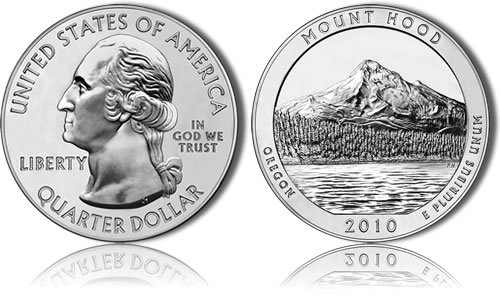 As with all prior issues of the program, the Mt. Hood coin is composed of 99.9% pure silver with a diameter of three inches and a weight 5 ounces. These specifications make the series of silver bullion coins the largest ever issued by the U.S. Mint. It is minted with identical imagery as found on the circulating quarter dollars (the America the Beautiful Quarters®), but features edge incused lettering to indicate the bullion coins specific contents.
2010 Mount Hood Silver Coin Values
When first released by the US Mint, coins of this series are sold through the Mint's network of authorized purchasers for a small premium above the current spot price of the precious metals contained within them.
As a bullion coin, the intrinsic melt value of the strikes will always be directly linked to the market price of silver. Since each contains five ounces of .999 fine silver, the coin will always be at least worth a value equal to that content. For instance, if the spot price of silver was $25 an ounce, these coins would have a melt value of approximately $125 – five ounces times $25 an ounce equals $125.
These coins will be of interest not only to investors, but to coin collectors as well. This is especially true for those that are slabbed by independent third party grading services and receive the top "70" grade. Their price points will tend to be significantly higher than non-graded examples.
Mount Hood Silver Bullion Coin Information
The US Mint struck only 33,000 of the Mount Hood Silver Bullion Coins which were initially offered to its network of authorized purchasers on December 10, 2010. The entire mintage was accounted for by the end of that month leading the Mint to declare a sell-out. Information on current releases and their sales numbers along with melt values can be found on silver coins sales.
George Washington, the first President of the United States, is featured on the obverse of all of the America the Beautiful coins — silver and the clad circulating quarter. This portrait was designed by John Flanagan and first used on the circulating 1932 quarter dollar. It has been used in one fashion or another on the quarter dollar ever since.
Shown on the reverse is a view of Mount Hood National Forest. Specifically, Mount Hood itself with Lost Lake in the foreground. It was designed and sculpted by Phebe Hemphill.
Mount Hood Silver Coin Specifications
| | |
| --- | --- |
| Face Value: | $.25 |
| Composition: | 999 fine silver |
| Mintage Cap: | 33,000 |
| Diameter: | 3 inches |
| Weight | 5 Ounces |
| Edge: | incused lettering |
| Minting Facility: | Philadelphia (no mintmark present) |
| Obverse Design: | portrait of George Washington |
| Obverse Designer: | John Flanagan |
| Reverse Design: | image of Mount Hood and Lost Lake |
| Reverse Designer: | Phebe Hemphill |