The fourth of five 2010 releases of the U.S. Mint's America the Beautiful Silver Bullion Coin™ Program was the 2010 Grand Canyon National Park Silver Bullion Coin. Shown on the reverse of the silver bullion coin was a design emblematic of Grand Canyon National Park of Arizona.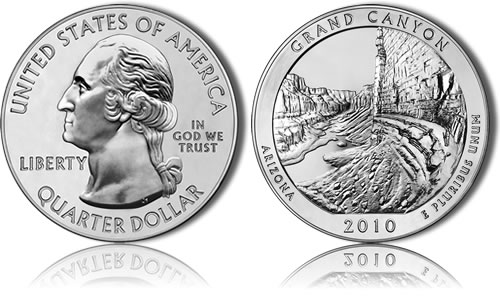 Each of these coins is composed of 99.9% pure silver, weighs five ounces, and has a diameter of three inches. These specifications make the series the largest bullion products the United States Mint has available.
2010 Grand Canyon Silver Coin Values
The bullion content means that each silver coin will have a melt value approximately equal to the spot price of the five ounces of silver. For example, if the price of silver were to reach $30 an ounce, then these coins would have an approximate intrinsic value of $150 (five ounces times $30 an ounce equals $150).
While sold as a bullion coin, the strikes also typically have value to coin collectors, especially for those that are graded by third party services. The higher the grade they receive for quality, the larger their numismatic values will be which should generally be much higher than the associated melt value.
Demand will also dictate values. The Mint produced only 33,000 of the coins which quickly attained a sell-out status. That small mintage should keep numismatic values on all five of the 2010 coins of the series up as they will likely be key strikes of the program.
Grand Canyon Silver Bullion Coin Information
John Flanagan designed the portrait of George Washington, the first President of the United States, that is featured on the obverse of each of the America the Beautiful Coins. This portrait was first used on the circulating 1932 quarter dollar and has been seen in one fashion or another on the quarter ever since.
The reverse of the Grand Canyon Silver Bullion coin shows a portion of the national park, specifically the granaries above the Nankoweap Delta near the Colorado River. It was designed and sculpted by Phebe Hemphill.
Grand Canyon Silver Coin Specifications
| | |
| --- | --- |
| Face Value: | $.25 |
| Composition: | 999 fine silver |
| Mintage Cap: | 33,000 |
| Diameter: | 3 inches |
| Weight: | 5 Ounces |
| Edge: | incused lettering |
| Minting Facility: | Philadelphia (no mintmark present) |
| Obverse Design: | portrait of George Washington |
| Obverse Designer: | John Flanagan |
| Reverse Design: | image of the granaries above the Nankoweap Delta |
| Reverse Designer: | Phebe Hemphill |